'Yalis

Missionaries forced the 'Namgis in Alert Bay to give up their traditional practice of lashing coffins to the branches of large trees near the village. Interment was imposed and a graveyard, suitably removed from the village, was surveyed and established. Although the Christian form of burial was prescribed, the Kwakwaka'wakw tribes persisted in erecting memorial poles alongside the grave sites to honour their ancestors.
---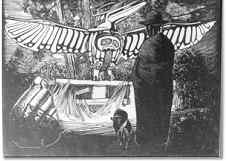 Many real and mythic birds inhabit the Northwest Coast cosmos. Frequently outsiders assume that dominant birds carved on totem poles and painted on housefronts are Thunderbirds.
Both Phillips and Carr sketched this grave marker in the Alert Bay cemetery and called it a Thunderbird. The creature is a mythic cannibal bird called a huxwhukw which uses its long beak to crack open the skulls of its human prey so it can devour their brains.
"Birds of Heaven. I will talk about the middle between our world and the upper side of what is seen by us, the blue sky where the sun and moon and the stars stay, that is what I mean, the names of the various birds of the Rivers Inlet tribe, the Crooked-Beak-of-Heaven and the Hoxuhoku-of-Heaven and the Raven-of-Heaven and the Screecher-of-Heaven and the Oogwa'xt'eye, and the many others whose names I do not know, the various birds above the clouds."
George Hunt in Boas 1930:180
On to Gwa'yasdams